PSU Athletics: In-classroom success under Sandy Barbour
Sandy Barbour has now been at the helm of Penn State Athletics for seven academic years. Her fiscal, managerial, and fund-raising shortcomings – both at Penn State and at her previous position at California – are well documented.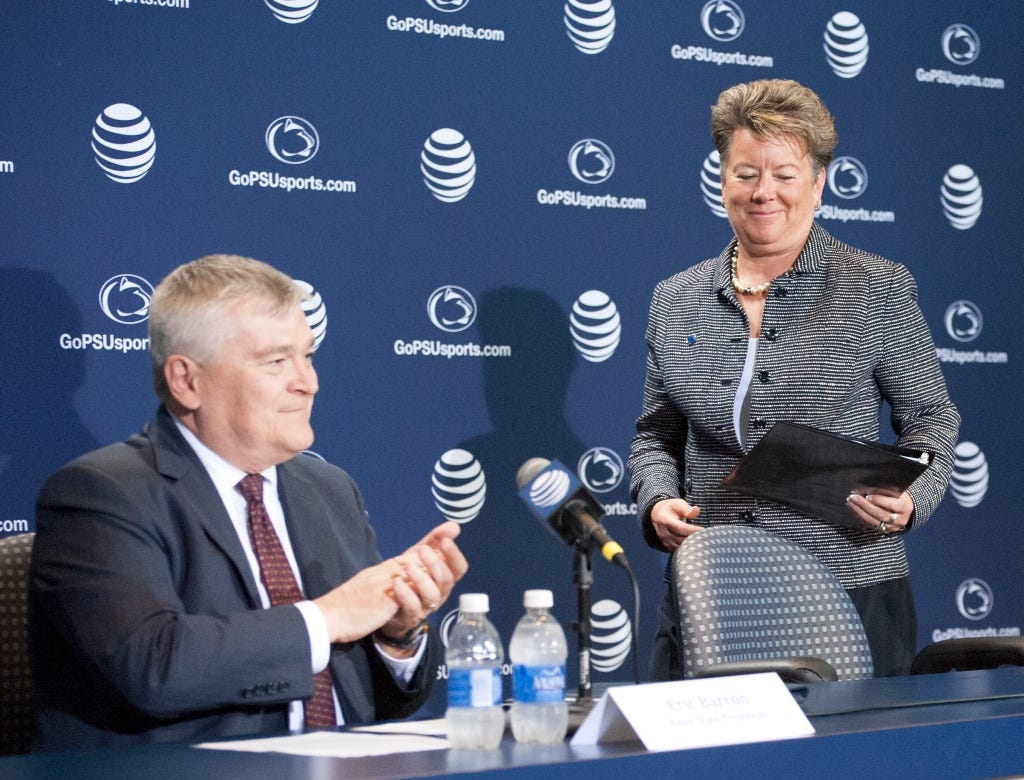 But how has Barbour done in leading her organization to, as she likes to phrase it, "Comprehensive Excellence" in the classroom? (For links to data see: NCAA Graduation Success Rate Year-to-Year by University)
Let's first look at where PSU Athletics was before Barbour took over.
In the seven years PRIOR to Barbour taking over, Penn State consistently placed second among Big Ten Universities, and first among the Big Ten Public Universities, in Graduation Success Rate (Northwestern, a private school, was #1 every year).

Penn State ranked second, behind only Northwestern, four times. Twice ranked third, and once ranked fourth.

In the seven years since Barbour was given the reins, how has Penn State Athletics done in the classroom?

Under Barbour, PSU's BEST finish was fifth – three times – which is worse than any year before Barbour – and sixth the other three years.

So, combined with her on-field failures, and her fiscal malfeasance, why does Sandy Barbour have a job?
Why is Sandy Barbour not only employed at Penn State, but why has she been "rewarded" with the highest compensation package of any Big Ten public university Athletic Director?


The Data:
Penn State's Graduation Success Rate among Big Ten Universities in the seven years prior to Barbour, from 2007/08 through 2013/14:
2007-08: 2nd of 11 (Behind only Northwestern)
2008-09: 2nd of 11 (Behind only Northwestern)
2009-10: 2nd of 11 (Behind only Northwestern)
2010-11: 3rd of 11 (Behind Northwestern and Illinois)
2011-12: 3rd of 12 (Behind Northwestern and Illinois)
2012-13: Tied for 4th of 12 (Behind Northwestern, Illinois, and Ohio State. Tied with Michigan and Iowa)
2013-14: Tied for 2nd of 12 (Behind Northwestern. Tied with Ohio State and Iowa)

In the seven years since Barbour was given the reins, how has Penn State Athletics done in the classroom?
Penn State's Graduation Success Rate among Big Ten Universities since Barbour took over (The NCAA has not yet released the figures for 2020-21):
2014-15: Tied for 5th (Behind Northwestern, Ohio State, Michigan, and Iowa. Tied with Minnesota)
2015-16: 5th of 14 (Behind Northwestern, Michigan, Iowa, and Minnesota)
2016-17: 5th of 14 (Behind Northwestern, Michigan, Iowa, and Minnesota)
2017-18: Tied for 6th of 14 (Behind Northwestern, Michigan, Illinois, Indiana, and Minnesota. Tied with Wisconsin, Nebraska, and Iowa))
2018-19: Tied for 6th of 14 (Behind Northwestern, Illinois, Michigan, Minnesota, and Nebraska. Tied with Indiana and Michigan State)
2019-20: Tied for 6th of 14 (Behind Northwestern, Illinois, Michigan, Minnesota, and Nebraska. Tied with Michigan State)